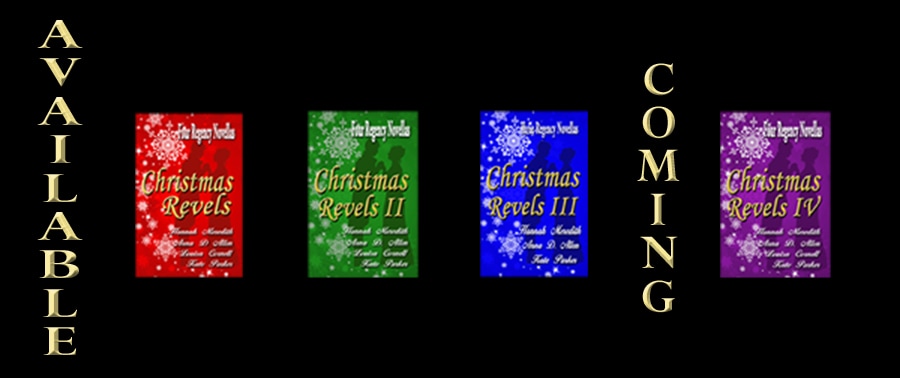 In 2014, I got together with a group of friends to create a Regency Christmas anthology. It was such fun that they have just kept coming. Here's what each contains. We obviously feel it is Christmas all year round.




CHRISTMAS REVELS


LET THE REVELS BEGINA Light in Winter or The Wicked Will
- Debt-ridden Connor Grayson inherits his uncle's title and ruined estate. But in order to inherit his uncle's money, the new Viscount Roxbury must marry an ancient crone--a fate he considers. . . until he meets her companion.
The Lord of Misrule
- Everyone expects the Earl of Morrell to propose to Alice Caruthers during the Christmas holidays. Finally! But when the earl's best friend arrives as the lucky First Foot on New Year's Eve Alice's world turns upside-down.
God Rest Ye Murdered Gentlemen
- Newlywed Eugenia, Lady Hunter, wants to impress her aristocratic in-laws with her first Christmas house party--but blackmail, dead bodies, and being snowed in with a killer are not part of her plan.
A Perfectly Dreadful Christmas
- Three not-so-wise gentlemen, a pregnant stranger, several tumbling footmen, and an unexpected snowstorm will turn Elizabeth's Perfectly Ordinary Christmas into a disaster--or a Christmas miracle with the man she loves.
Buy at
- Amazon
Nook
I-Books
Kobo
CHRISTMAS REVELS II


LET THE REVELS BEGIN--AGAIN! The Vicar's Christmas
- Margaret Trent never needs anything or anyone, but when two London solicitors show up on her doorstep, she needs a hero. Enter Henry Ogden, mild-mannered village vicar. Hardly the stuff of heroes . . . until adversity brings out unexpected talents.
A Christmas Equation
- A chance meeting between a reluctant viscount and a self-effacing companion revives memories of their shared past--a time when they were very different people. With secrets to keep, Sarah Clendenin wishes Benjamin Radcliff gone . . . but he's making calculations of his own.
Crimson Snow
- A trail of blood drops leads Jane Merrywether to a wounded stranger--the only standing in the way of her wicked guardian becoming an earl. John Rexford, long thought dead, has returned to claim his inheritance and his promised bride . . . if he can survive a murderous Christmas.
A Perfectly Unregimented Christmas
- After years at war, Viscount Pennyworth returns to his ancestral home to find some peace and quiet and to avoid the holiday he loathes. But four naughty boys, a bonnet-wearing goat, a one-eyed cat, a family secret, and one Annabelle Winters, governess, make this a Christmas he'll never forget.
Buy at - Amazon Nook I-Books Kobo