DESCRIPTIONS & AUTHOR'S NOTES

*************************************************************************

KESTREL - A Regency Novella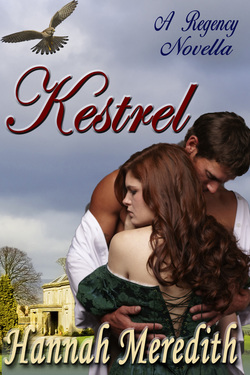 Joshua, Lord Trent, returns from war on the Peninsula a very different man from the callow youth who, in a fit of pique, deserted his responsibilities for an illusion of military glory. He's come to cherish all he left behind and hopes he can make amends to the wife he's greatly wronged. Unfortunately, he has no idea how to earn her forgiveness.
Diana, Joshua's wife, has also changed. She's no longer a naïve girl charmed by a handsome, but ultimately feckless, husband. She's spent the past six years singlehandedly running the estate and knows her worth. But she's also a pragmatist who realizes that her desire for a family requires a reconciliation with her husband.
Together, Joshua and Diana try to build a new life from the ruins of their past. Neither hopes to find love, but when it seems possible, problems from Joshua's former life arrive to tear them apart.

Author's Comments – I've always been fascinated by the repercussions youthful stupidity has on later life—so much so that this has inadvertently become a theme in many of my tales. Today, such lapses in judgment can be recorded on a cell phone and immediately posted on YouTube, a horrid thought that keeps my characters firmly rooted in the pre-technological past.

In KESTREL, the young Joshua is infatuated by his mistress to the exclusion of his convenient and competent wife. First love is often a painful experience, however, and when his mistress eventually leaves him, Joshua's reaction is even more reprehensible. He dumps the product of his illicit liaison, a baby boy, on his long-suffering wife Diana and marches off to the imagined glories of war.

For her part, in the years of her husband's absence, Diana discovers the strong woman she could always have been. Joshua's "little brown wren" grows into a falcon and once she's learned to fly, she will not again be caged. Conflict is inevitable as each tries to build a life free of the disasters of the past.

While this is a story of redemption and forgiveness, it is definitely NOT an Inspirational Romance. I'd place the sensuality level in the "hot" range. The main characters have real flaws, not imaginary ones. This is a Novella, meaning it has about a third of the length of most of my novels. If this sounds like a story you'd like, buy it from your favorite online bookseller.

*************************************************************************************************
---
A DANGEROUS INDISCRETION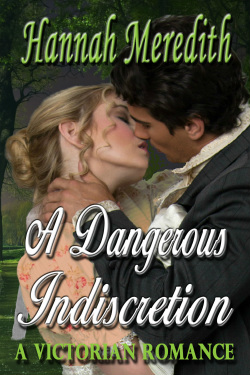 Fifteen years earlier, Lady Margaret followed her parents' dictates and married the "catch of the season" instead of the less acceptable James Allenby. When a wealthier and more powerful James returns to her life, his appeal is immediate. Margaret, now widowed, decides to ignore society's rules and indulge in an affair.
James has returned to England from India in an effort to stop an impending war to force China to allow the importation of Indian opium. He seeks out Margaret, the woman who has haunted his lost and lonely years, hoping to find closure. Instead, he becomes more enamored and inadvertently leads Margaret into danger.
Pursued by those with a financial interest in starting the war, James and Margaret flee to his distant holding on the Yorkshire coast. There they must reconcile the people they have become with the people they would like to be.


Author's Comments – I always find the "historical" aspects of Historical Romance intriguing. I love it when characters and a time period coalesce into a solid story.

While reading about the events that predicated England's First Opium War with China (yes, there were two), I realized that characters who'd been yammering in my head for some time had finally found a home. Most novels that deal with the mid-1800's ignore this conflict, probably because it hardly covers Great Britain in glory. Imagine if the Columbian Cartels had the military power to force the US to accept all of the cocaine they could deliver. That's essentially what happened.

A DANGEROUS INDISCRETION is filled with a multitude of unintended consequences, since I think much of life is. Margaret thinks she can kick up her oh-so-proper heels for once in her life, and if she's discrete, no one will notice. James thinks he can indulge his sexual fantasies and remove Margaret from his constant reverie. Of course, none of this works out as anticipated.

James made his fortune growing, selling, and transporting opium. This activity was not only legal at the time, it was actually applauded. Unfortunately, he unwisely tried his own product and became addicted. Before the period of this story, he managed to "kick his habit," but the specter of renewed addiction haunts him and has led to his moral objection to the sale of the drug.

A DANGEROUS INDISCRETION is a full-length novel. The sensuality level is best described as "hot." If this sounds like something you'd enjoy, please buy this book from your favorite online bookseller.

*************************************************************************************************

---
INDENTURED HEARTS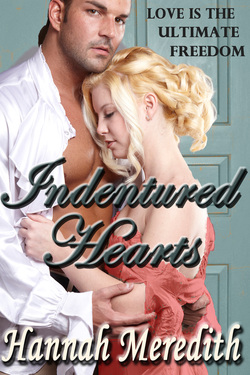 Believing she accidently killed a suitor, Lady Cassandra Spathe flees England for the American Colonies. To get free passage, she blithely signs the Articles of Indenture, confident a friend in Boston will pay her fare. Unfortunately, after a horrific voyage, her ship lands in Virginia and she's sold on the deck as Cassy Spade, seamstress.
Jason Anders, Cassy's buyer, is a former transported convict who carries the scars of his own indenture on his back and in his soul. Since his release, he's made a fortune producing iron and now aspires to become a gentleman. He purchases Cassy for her upper class speech patterns and hopes she can give him the polish he needs to fulfill his political ambitions.
Passion flares between these unlikely lovers, but can an aristocrat's daughter and a convict escape their preconceptions and find common ground on which to build a life?

Author's Comments – The idea for this plot came from my wondering how well a gently bred noblewoman would adapt to situations completely out of her realm of experience. Yeah, I know, we've all read plots where Lady Spunky happily becomes a cat burglar or a barmaid, and they've been great fun. But what I had in mind was a more realistic examination of how competent people cope when they're outside their areas of competence.

For some reason, I imagined a Georgian era lady, the popular darling of society, who ends up as an indentured servant in what was then the Virginia Colony—and Lady Cassandra Spathe/Cassy Spade was born. Of course, I then had to manufacture a plausible reason for this happening and an equally plausible reason for her being unable to return to her former life. The inciting incident I came up with was an attempted rape by a rejected suitor and her belief that she'd killed him when she escaped.

This particular scene, which appears as the Prologue, is pretty brutal. But I couldn't figure out any other way to portray an essentially violent and loveless act. If this type of depiction bothers you, you can just know it happens and start with Chapter One, since that's where we meet Jason and as heroes go—oh, yeah!

Jason arrived fully formed in my imagination and I immediately liked him. He's the typical self-made man, but one riddled with insecurities that he strives to overcome. The chemistry between him and Cassy just jumped off the page, even though they are divided by class, experience, and prejudices. This particular tale also contains some of my favorite supporting characters, as well as a wonderfully smarmy villain.

INDENTURED HEARTS is a full-length novel. The sensuality level is definitely "hot." If this sounds like a story you'd enjoy reading, please buy it from our favorite online bookseller.

************************************************************************************************

KALEIDOSCOPE


---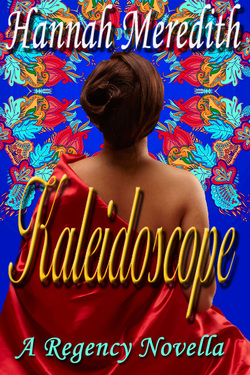 Born in India, Carolyn Rydell moves her shipping business to London. Although she's exotically beautiful and wealthy, her late husband's aristocratic family rejects her because of her profession and heritage. Feeling increasingly isolated, Caro uses work as a shield against loneliness. Then she finds an injured man floating in the Thames—and the pattern of her life changes.
The injured man is Lord Lucien Harlington. The youngest son of a marquess, Luke is accused of seducing and abandoning a young lady. Disgraced and estranged from his family, he tries to live down to others' expectations.
But now he's become disgusted with his dissolute lifestyle and longs to start anew. To do so, however, but must find his missing legacy—a cache of jewels.
Luke's innate kindness and golden good looks spark Caro's desire, but she fears he's attracted to her money and not herself. For his part, Luke finds his rescuer fascinating and wants more than the friendship she offers.
Surrounded by greed, bigotry, and betrayal, Caro and Luke try to discover the passion and love that will complete the patterns of their lives.


AUTHOR'S NOTES - In case you hadn't noticed—and I do tend to bludgeon the reader over the head with it, so how could you not?—a kaleidoscope is the central image in this tale. One of my Beta readers told me that romance readers don't look for things like central images, but this mental picture was my guiding force from the inception of this story, so it naturally ended up on the pages.

The idea behind KALEIDOSCOPE began with my thinking of the myriad of little things that significantly change the way our lives turn out. If you'd left the house just one minute earlier, you would not have been involved in an automobile accident. If the accident hadn't made you late to work, your boss would not have yelled at you. If he hadn't been such a jerk, you would not have decided to look for other employment... and so it goes, day after day. All those "ifs." All those possibilities.

On a personal level, I realized that if I'd not gone to an out-of-town dance and run into a close friend and met her hunky date—I wouldn't even know my husband. Scary thought. But particularly, meeting someone significant seems to depend on whether one turns right or left.

And here is where the central image of the changes in the patterns of a kaleidoscope came charging into my brain and wouldn't leave. It takes very little movement of the object box of a kaleidoscope to change the patterns, and once the design has shifted, the same exact pattern will not again reappear. With enough tries, you can come up with something similar, but never exactly the same one.

I also wanted to write something about prejudice and mistaken perceptions. This obviously affected the characters who arrived to people my tale. Carolyn Rydell is Anglo-Indian, probably because I learned something about the prevalence of that prejudiced while researching information for A DANGEROUS INDISCRETION.( Yeah, I do a lot of research about stuff I don't use in a given story, but I always keep the notes. ) And then, I had Lord Lucien Harlington accused of a heinous crime he could not prove was not his doing. There were obviously going to be a lot of pattern changes in these people's lives. Perfect for what i had in mind.

I enjoyed writing KALEIDOSCOPE and I hope you enjoy reading it. As always, the heat level hovers in the "hot" range.
















---